Origin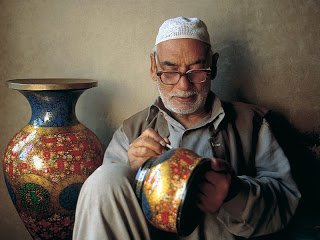 In the world history, war and development have often led to unexpected development in Art and Craft of the world. This is the ground to the introduction of paper Machie in the valley by our noble King Zain-Ul-Abadin. When the king returned from captivity, in Samarkand during his confinement the kings' eyes caught the sight of the Art of using paper pulp as a base to the manufacture of finely painted objects with Lacquered top giving feast to one's eyes was formed as paper machie in Kashmir. At the time of Mughal period this art grew, the Mughals Commissioned the whole communities of craftsmen to make gifts, to design palaces, panels, doors, ceilings and walls of their palace which is still existing at some places in other parts of India.
It was in late 16th Century that few French Shawl Agents who saw the unusual craft of paper machie in Kashmir, on return to their country spread the art of paper machie. The demand for paper machie grew and agents from European countries began suggesting items for Europe, some fine pashmina shawls were sent to France in Paper Machie Boxes. It's at this stage that Western people came to know of this art by it's French name - paper Machie. In modern world of art paper Machie has held it's own identity in the hearts of the people.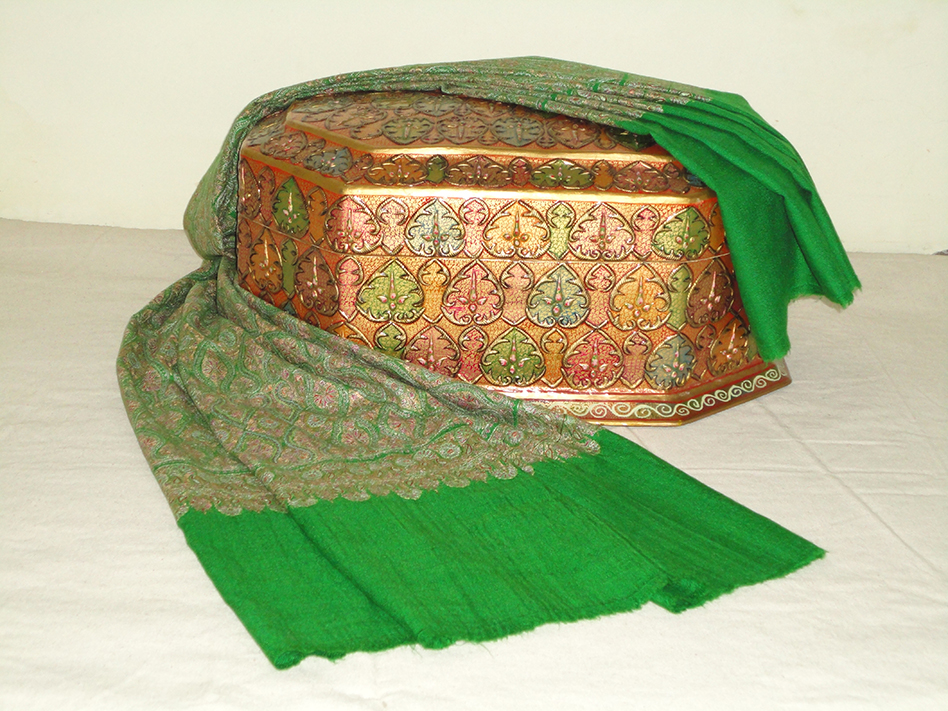 Making of Paper Machie
The involvement in making paper machie poduction is divided into two categories. The first making of object and second is painting of the object. To prepare the objects one has to grind cloth, rice and tree glue into a paste and the paste is poured into moulds made of wood by craftsmen. After the pulp has dried and have taken required shapes, it's then carefully taken out of moulds. The surface is then pasted with tissue paper on the firm in layers to produce a very fine surface. It's then ready for the grand coat of colour (The Nagash). The aritst prepare the colour for painting the paper machie object, a long processed traditional colours are used. The design used in paper machie are very intricate and this application requires great deal of skill. The designs are painted free hand. Finally a coat of Lacquer is applied to give the required finishing touch to the object. Hand paintings are inspired by classical intricate designs with nature and tradition motifs to most modern designs, superior handpainting techniques. Variety of designs and colours have made them a desired object D Art and a vivid appearance to a home, besides adding worth to it, a feast to one's eyes.